WELCOME TO THE JANUARY 2009 ONLINE EDITION!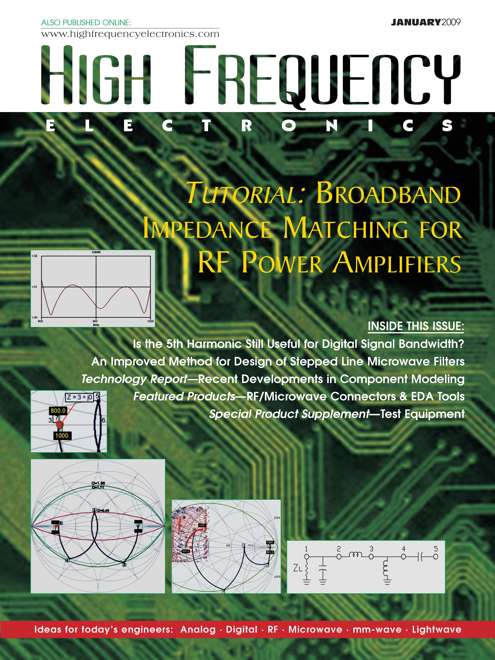 Copyright © 2009, Summit Technical Media, LLC. This online publication is intended solely for personal use. Any reproduction or distribution without the written permission of Summit Technical Media, LLC is prohibited.
THIS IS THE COMPLETE HIGH FREQUENCY ELECTRONICS ISSUE— ARTICLES AND ADVERTISEMENTS CAN BE VIEWED JUST AS THEY APPEAR IN THE PRINTED MAGAZINE.
NOTES and INSTRUCTIONS:
1. The online edition is provided in PDF format. The dowloaded file size is approximately 15 MB — a high speed Internet connection is recommended.
2. PDF files require Adobe Acrobat or the free Acrobat Viewer. To download the latest version of Acrobat Viewer from the Adobe Web site, click on the icon below:

3. After the download of the Online Edition is complete, use the "Save a Copy" command to save it to your computer.
4. Table of Contents and Advertiser Index pages include links directly to the articles and advertisements. Also, there are links from all advertisements to those companies' Web sites. These links will work best if you close your Web browser version after saving the file and open your saved Online Edition in Adobe Acrobat.
TO OPEN THE ONLINE EDITION CLICK HERE OR ON THE COVER IMAGE ABOVE
Special Note:
We have received a few reports of problems viewing PDF files in a browser window. The typical symptom is an empty browser window. To download the file without viewing in the browser, right-click on the links above and select "Save Target As" — Choose a folder on your computer where the downloaded Online Edition will be saved. You can then open the saved file and view it at your convenience.
If you have experienced this problem, we recommend that you install the latest version of Adobe Acrobat Reader at your earliest convenience.
—————————